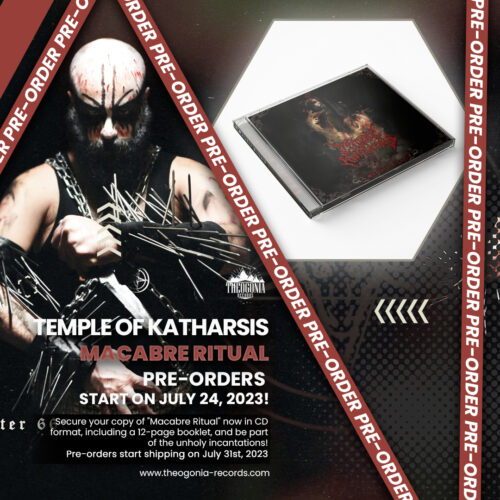 We are thrilled to announce that the long-awaited debut album, "Macabre Ritual" from the mighty Temple of Katharsis, is available for pre-order starting today July 24, 2023! 🤘
Immerse yourself in the sinister abyss of black metal mastery as Temple of Katharsis takes you on a harrowing journey into the realms of satanism, anti-religion, death, darkness, and war. This monumental opus promises an intense and hauntingly captivating experience for all disciples of the genre.
🔗 Pre-order your very own Jewel Case CD now: https://theogonia-records.com/product/temple-of-katharsis-macabre-ritual-cd
Mark your calendars as "Macabre Ritual" will be officially unleashed in CD format on August 4th, 2023, but why wait until you can secure your copy in advance? The pre-orders will start shipping on July 31st, 2023, ensuring that you'll be among the first to delve into the darkness.
The CD edition includes a meticulously crafted 12-page booklet, guiding you deeper into the cryptic abyss of "Macabre Ritual". Let the haunting artwork and cryptic information amplify your immersive experience in the world of Temple of Katharsis.
Prepare to be spellbound by eight unholy hymns, each casting a malevolent spell upon all who dare to listen. From the chilling and atmospheric depths of "Abyssal Cold Void" to the relentless assault of "The Burning Flood of Antichrist" and the occultic incantations of "Inside the Medieval Crypt", each track immerses the listener in a macabre world of sinister rituals and narratives.
🔥 Secure your copy of "Macabre Ritual" now and be part of the unholy incantations: https://theogonia-records.com/product/temple-of-katharsis-macabre-ritual-cd
Let the darkness consume you, and be ready to descend into the abyss of "Macabre Ritual" with Temple of Katharsis. Stay tuned for more updates as the ritual draws near. 🌑