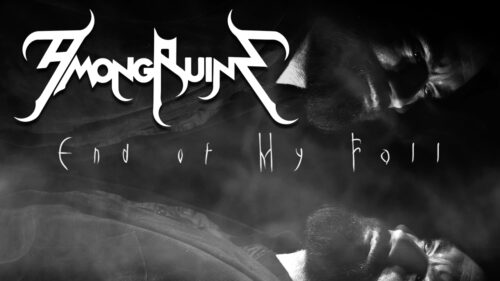 AmongRuins Unveils New Film-Noir Video for "End Of My Fall" from "Land of the Black Sun"!
As they prepare to embark on their highly anticipated 2023 Eastern European tour, AmongRuins is thrilled to unveil their newest artistic creation, the mesmerizing film-noir video for the song "End Of My Fall" from their latest album, "Land of the Black Sun."
In the band's own words, the video is: "a reflection of the inner and outer struggles experienced by artists. It explores the stages from the depths of pain to the heights of redemption, an odyssey every artist undertakes." Shot in a theater, the video features fellow theater artists, symbolically linking the slow erosion of free thinking and an attack on theater to the broader expression of artistic freedom. This short film-noir is an expressionistic canvas for AmongRuins' "End Of My Fall" video.
The video showcases the talents of actors Kostas Delakouras, George Chatzikyriakos, and Afroditi Kousidi, who bring depth and emotion to the narrative. It was skillfully brought to life by director Dimitris Papadimitroulas of Artplus Studio, with Anestis Pappas serving as the assistant director. Their creative vision aligned perfectly with the band's artistic expression, resulting in a powerful visual masterpiece.
AmongRuins sees this film-noir video as a significant part of their artistic journey. It reflects their commitment to pushing artistic boundaries and showcases their dedication to presenting unique and evocative content to the world.
We invite you to immerse yourself in the captivating narrative of "End Of My Fall." Experience the emotional depths and the artistic triumphs in this stunning film-noir video.
🔗 Watch the Video: https://youtu.be/5dykXJmekmk
🎶 Buy the album: https://theogonia-records.com/product/amongruins-land-of-the-black-sun-cd/
Keep up with the latest news and announcements by following AmongRuins on their social media platforms 🔥
CREDITS:
Actors:
Kostas Delakouras
George Chatzikyriakos
Afroditi Kousidi
Director:
Dimitris Papadimitroulas
Assistant director:
Anestis Pappas
Video Production:
Artplus Studio
https://artplusvideo.gr/