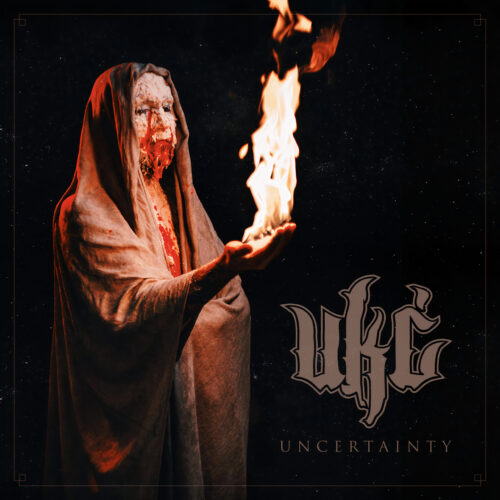 Theogonia Records proudly presents the spine-chilling music video for "Uncertainty", the first single from UKĆ's album, "Coming Out – Love & Hate Diaries", scheduled to be released on February 16, 2024.
Watch here: https://youtu.be/vPP9aoCeiXc
"Uncertainty" is the English version of the song "Niepewność", originally featured in UKĆ's debut album, "Coming Out", released in April 2023. This enigmatic track offers a glimpse into the unparalleled musical prowess and profound creativity of Łukasz "Icanraz" Sarnacki, the mastermind behind UKĆ. Hailing from Białystok, Poland, UKĆ is a one-man progressive black metal project that has taken the metal world by storm.
UKĆ's sonic evolution began with the release of the EP "Przemijanie" in November 2022, a tantalizing glimpse into Łukasz's musical psyche. Following its success, he unveiled the Polish version of his debut full-length album, "Coming Out", in April 2023. However, Łukasz's ambition knows no bounds, leading him to meticulously craft an English version of "Coming Out", titled "Coming Out – Love & Hate Diaries", set to be unleashed upon the world on February 16, 2024.
Regarding the album, Icanraz states, "The album contains 8 extensive compositions filled to the brim with emotions and very personal lyrics. It's progressive metal with a rock flair and black metal aura where stylistic boundaries seem to be non-existent. This music is aimed at people with open minds and is my absolute artistic coming out. It was the first time I stepped out of my comfort zone and did something of this magnitude."
Prepare for a symphony of emotions, a collision of genres, and a revelation of the soul as UKĆ's "Coming Out – Love & Hate Diaries" descends upon the world in February 2024, courtesy of Theogonia Records.
Follow UKĆ and Theogonia Records on social media for updates.