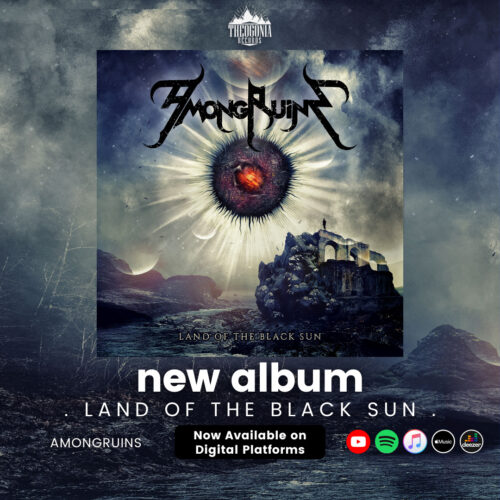 🎧 AmongRuins' highly anticipated album, "Land Of The Black Sun" is now available on all digital streaming platforms! 🎉🔊
Immerse yourself in the dark and haunting world created by AmongRuins with their perfect blend of brutality and melody. This album takes you on a sinister journey through modern Melodic Death Metal soundscapes, where powerful vocals, melodic guitars, and intense drums collide.
📅 Digipak CD Release Date: July 14th, 2023 🚀
Bandcamp: https://theogoniarecords.bandcamp.com/album/land-of-the-black-sun
Spotify: https://open.spotify.com/album/2HM5iWa0EJdxOb6jkMyvBr?si=uMfp7UBbTYirPnMoPDCybA
iTunes: http://itunes.apple.com/album/id1690273739?ls=1&app=itunes
Apple Music: http://itunes.apple.com/album/id/1690273739
But that's not all! The physical album is also available for pre-order now! Experience the full immersive experience with the stunning 6-panel digipack CD featuring amazing artwork!
Featuring 8 captivating tracks and a total playtime of 38 minutes, "Land Of The Black Sun" is a true testament to AmongRuins' unique sound. From the stunning artwork by Vision Black Art to the expert mixing and mastering by Saku Moilanen at Deep Noise Studios Finland, every element has been carefully crafted to create an immersive and impactful experience.
Don't miss the guest vocals by George Prokopiou and the acoustic guitar performance by Tuomas Saukkonen of Wolfheart, adding depth and beauty to the album. The captivating photography by Elena Vasilaki further enhances the visual journey.
If you're a fan of aggressive vocals and powerful melodic death metal, this album is a must-have in your collection! 💀🤘
So, what are you waiting for? Head over to your favorite streaming platform now and dive into the dark and haunting melodies of "Land Of The Black Sun" by AmongRuins. 🎶🌑
Don't forget to pre-order your physical copy now and secure your spot in the journey!