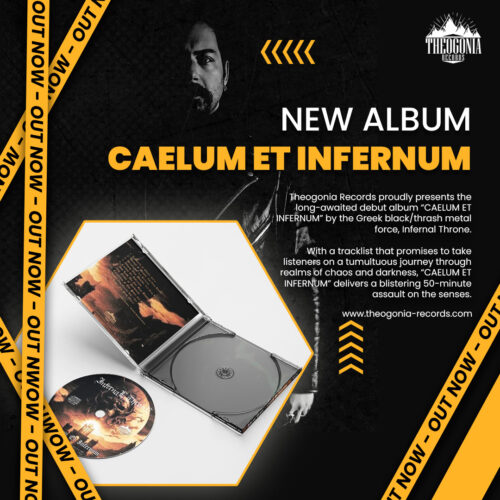 Today marks the triumphant release of "CAELUM ET INFERNUM", the long-awaited debut album from the Hellenic black/thrash metal powerhouse, Infernal Throne!
Hailing from the ancient city of Corinth, Infernal Throne has risen as an uncompromising force in the Hellenic underground metal scene, and this album is their relentless testament.
Featuring a tracklist that promises a tumultuous journey through realms of chaos and darkness, "CAELUM ET INFERNUM" delivers a blistering 50-minute assault on the senses. It's a collaborative masterpiece, showcasing Infernal Throne's unyielding commitment to their art.
From the intense opener "A World Of Chaos" to the powerful "Desolation" (feat. Kerveros), and the epic title track "Caelum Et Infernum", this album is a relentless display of raw power and musical prowess.
The journey leads you through darkness, despair, and collaborative fury, only to find serenity and transcendence in "Αιώνια Ζωή (Eternal Life – feat Archon)". It closes with "No Hope, No Pain", leaving you mesmerized and hungry for more.
But it's not just the music that's a masterpiece. The mesmerizing cover artwork, crafted by the talented Haris Burekas, and the meticulously crafted lyrics in the 12-page full-color booklet immerse you in the depths of Infernal Throne's dark vision.
With production, mixing, and mastering executed by Infernal Throne themselves, every note and riff resonates with pure, unadulterated power.
Today, the physical CD release is here, and the anticipation among black and thrash metal enthusiasts is soaring.
🛒 Order Now: https://theogonia-records.com/product/infernal-throne-caelum-et-infernum-cd/
🛒 Bandcamp: https://theogoniarecords.bandcamp.com/album/caelum-et-infernum
🎧 Digital Formats Available Too: https://open.spotify.com/album/0G74atwVQB6Tk3stGipWAm?si=tcsHLMQyROa6YMhMP9cYIw
Prepare to embrace the infernal depths of "CAELUM ET INFERNUM" as Infernal Throne sets ablaze the boundaries of black and thrash metal. The legions await, ready to surrender to the mastery of Greek metal's rising force. Join the journey and become a part of the dark legacy.