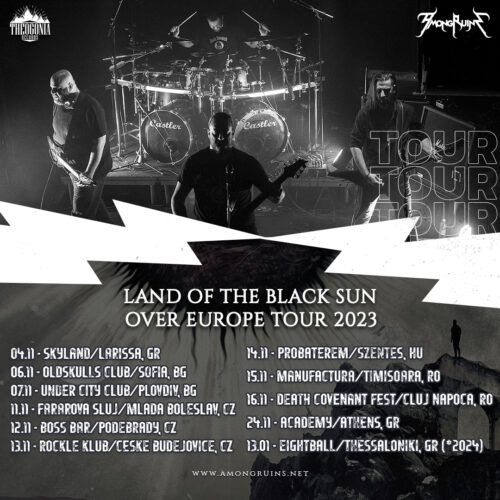 Prepare for a relentless onslaught as AmongRuins takes their brutal melodic death metal to the heart of Europe on the "Land Of The Black Sun" tour!
This is just the first chapter of their reign, conquering Eastern European strongholds, with more devastation to come in 2024. Brace yourselves:
Tour Annihilation:
04.11 – Skyland / Larissa, Greece
06.11 – Oldskulls Club / Sofia, Bulgaria
07.11 – Under City Club / Plovdiv, Bulgaria
11.11 – Fararova Sluj / Mlada Boleslav, Czech Republic
12.11 – Boss Bar / Podebrady, Czech Republic
13.11 – Rockle Klub / Ceske Budejovice, Czech Republic
14.11 – Probaterem / Szentes, Hungary
15.11 – Manufactura / Timisoara, Romania
16.11 – Death Covenant Fest / Cluj Napoca, Romania
24.11 – Academy / Athens, Greece
13.01 – Eightball / Thessaloniki, Greece
(*2024)
Prepare for a sonic assault that will leave no soul unshaken!
And remember, you can claim your copy of "Land Of The Black Sun" through these portals of darkness:
Online shop: https://theogonia-records.com/…/amongruins-land-of-the…
Bandcamp: https://theogoniarecords.bandcamp.com/…/land-of-the…
Stay tuned for more tour updates as AmongRuins unleashes chaos upon the continent!