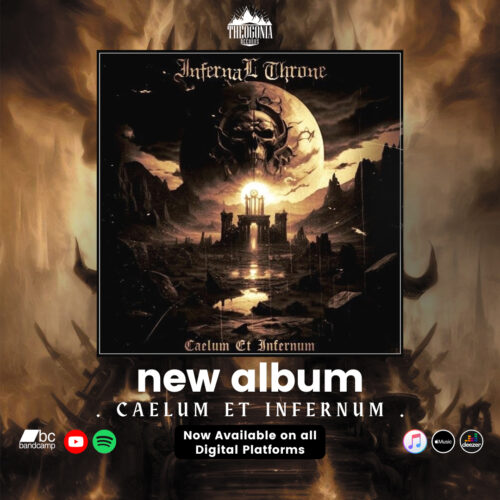 The day has arrived, and it's time to unleash the Hadean power of INFERNAL THRONE! Their highly anticipated debut album, "CAELUM ET INFERNUM", is OUT NOW on all major streaming and digital platforms!
🤘 Dive into a relentless storm of Hellenic black/thrash metal. 🤘
From the ancient city of Corinth, INFERNAL THRONE has ignited an unrelenting fire within the Hellenic underground metal scene, and now they're ready to scorch the world with their unparalleled sonic fury.
🔗 Stream "CAELUM ET INFERNUM" now on your favorite platform:
YouTube Full Album Stream Premiere by Hellenic Metal World:
▶ https://www.youtube.com/watch?v=tZG9NjglaSQ
Bandcamp: https://theogoniarecords.bandcamp.com/album/caelum-et-infernum
Spotify: https://open.spotify.com/album/0G74atwVQB6Tk3stGipWAm?si=jJWhngzaRHadaHXvpi3XoA
iTunes: http://itunes.apple.com/album/id1704963609?ls=1&app=itunes
Apple Music: http://itunes.apple.com/album/id/1704963609
The infernal journey begins today, on September 15th, 2023. Let the flames of black and thrash metal consume your soul as you immerse yourself in this sonic inferno.
For those who seek a tangible connection with the infernal energy, the Jewel Case CD release with a 12-page booklet will hit the shelves on September 29th, 2023.
Pre-order now: https://theogonia-records.com/product/infernal-throne-caelum-et-infernum-cd/
INFERNAL THRONE has already teased us with three scorching singles, and now it's time to embrace the full force of their mastery. Brace yourselves, metalheads, for the legions are gathering, ready to embrace the unstoppable onslaught of Hellenic black/thrash metal.