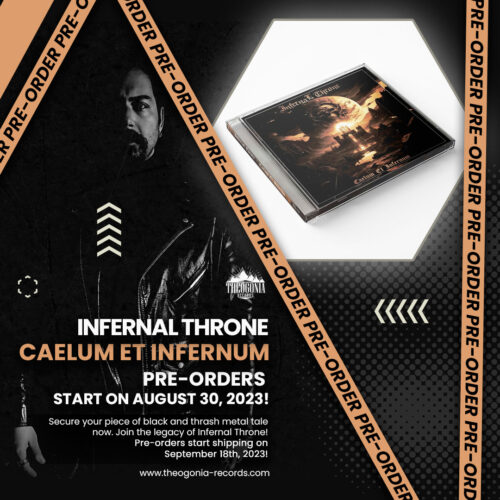 Theogonia Records is thrilled to announce that the pre-order for the long-awaited debut album "CAELUM ET INFERNUM" by the Hellenic black/thrash metal force, Infernal Throne, is now officially open! Hailing from the ancient city of Corinth, Infernal Throne has emerged as an uncompromising powerhouse in the Hellenic underground metal scene. Pre-order your copy now!
Pre-Order Details:
Album: CAELUM ET INFERNUM
Genre: Black/Thrash Metal
Release: 29th September 2023
Pre-Order Start: 30th August 2023
Order Option: Jewel Case CD
Buy Link: https://theogonia-records.com/product/infernal-throne-caelum-et-infernum-cd
Shipping: Pre-orders ship from 18th September 2023
With a tracklist that promises to take listeners on a tumultuous journey through realms of chaos and darkness, "CAELUM ET INFERNUM" delivers a blistering 50-minute assault on the senses. The album features a diverse array of collaborations, showcasing the band's unyielding commitment to their art. The immersive artwork and meticulously crafted lyrics await inside the 12-page full-color booklet.
Prepare to embrace the infernal depths of "CAELUM ET INFERNUM" as Infernal Throne sets ablaze the boundaries of black and thrash metal. The legions await, ready to surrender to the mastery of Hellenic metal's rising force.
Secure your piece of black and thrash metal tale now. Join the dark legacy of Infernal Throne!
🔥🤘#InfernalThrone #CaelumEtInfernum #PreOrderNow #HellenicBlackMetal🤘🔥