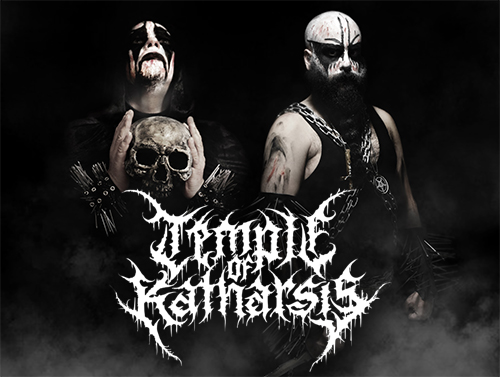 Enter the Abyss: TEMPLE OF KATHARSIS Joins Forces with Theogonia Records for Debut Album Release!
Theogonia Records is proud to announce the signing of the Greek black metal band TEMPLE OF KATHARSIS! Hailing from the city of Kastoria, the band was founded in 2011 by the infamous Hellmaster666 (bass/vox) and Homados (guitars), and their music draws inspiration from both the Scandinavian and Greek black metal scenes. Their sound is dark, intense, and unrelenting, exploring themes of satanism, anti-religion, death, darkness, and war.
To date, TEMPLE OF KATHARSIS has released one demo, one EP, and three split albums, cementing their position as one of the most exciting acts in the underground black metal scene. The band has also shared the stage with legendary acts like Septic Flesh, Womb of Maggots, Rotting Christ, Dark Vision, and Gaerea, captivating audiences with their intense and mesmerizing live performances.
After years of anticipation from their devoted fanbase, TEMPLE OF KATHARSIS is finally ready to unleash their debut full-length album, which will be released via Theogonia Records in late summer 2023. The album promises to be a seismic event in the world of black metal, showcasing the band's unique sound and vision.
"We are thrilled to welcome TEMPLE OF KATHARSIS to Theogonia Records," says the label's manager. "Their music is a testament to the power and spirit of black metal, and we can't wait to share their debut album with the world. This is a band that has been making waves in the underground scene for years, and we are honored to be a part of their journey."
The band also expressed their excitement about their new partnership, stating, "We are particularly happy to belong to the roster of Theogonia Records, such a promising label! We are confident that this collaboration will take us to new heights and we can't wait to share our music with a wider audience. Theogonia Records truly understands our vision and we feel that this is the perfect home for our debut album. Get ready for an intense journey into the abyss!"
Fans of black metal, prepare to have your minds blown. TEMPLE OF KATHARSIS is a force to be reckoned with, and their debut album on Theogonia Records will shake the ground. Stay tuned for more news and updates, and get ready to enter the darkness.

Find TEMPLE OF KATHARSIS on Social Media:
https://www.facebook.com/templeofkatharsis
https://templeofkatharsis.bandcamp.com
https://www.youtube.com/channel/UCnO4OPByRCN4B9l-t2ia_3w