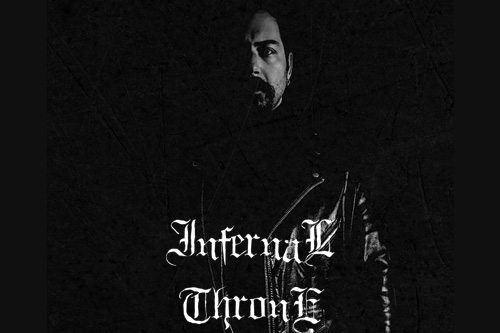 Infernal Throne Joins Theogonia Records, Unleashing Debut Album This Fall!
Theogonia Records proudly announces the signing of the Greek black/thrash metal force Infernal Throne. Hailing from the ancient city of Corinth, Infernal Throne has emerged as a relentless and uncompromising powerhouse in the Hellenic underground metal scene.
Formed in December 2019, Infernal Throne quickly ignited a raging inferno with their debut single, "Torment." Released through the esteemed Hellenic Metal World's official YouTube channel, the track served as a scorching testament to the band's unyielding dedication to their unique brand of Black/Thrash Metal.
Following their explosive debut, Infernal Throne delivered their mini-album, "Back To The Abyss," in November 2020, leaving an indelible mark on the metal community. This relentless offering garnered praise from fans, radio stations, and metal magazines worldwide, securing its position on numerous "Best Releases of 2020" lists. In a remarkable achievement, the long-established Hellenic Metal World poll saw Infernal Throne's creation voted as the year's best release, standing proudly alongside Empire Of The Moon and Yoth Iria.
Infernal Throne continued their conquest, leaving a trail of devastation across airwaves and pages worldwide. From engaging in interviews with renowned radio stations and zines in Latin America and the USA to gracing the pages of Portugal's Metal Hammer, the band's infernal presence could not be denied. Their sonic onslaught reverberated through various Greek radios, while their demonic artistry found its way onto extreme metal compilations worldwide.
Throughout their journey, Infernal Throne enlisted the talents of highly respected musicians from Greece's underground scene, fortifying their ranks and amplifying their popularity. This alliance of infernal forces culminated in the release of the explosive 5-way split album, "Legends And Warriors Of The Corinthian Throne," unleashed upon the world in March 2023 under the banner of Hellenic Metal World.
Now, as the flames of anticipation reach a crescendo, Infernal Throne prepares to unleash their long-awaited debut album upon the world in early fall 2023. This monumental release promises to engulf the senses, forging an unbreakable bond with black and thrash metal devotees. Already, the band has revealed three scorching singles, providing a mere glimpse into the infernal depths that await.
In light of their recent signing with Theogonia Records, Infernal Throne issues the following statement: "We are immensely proud of our partnership with Theogonia Records. This label shares our vision, our passion for music, and our unwavering desire to express ourselves through the black and thrash metal art form. Theogonia Records is a stalwart supporter of the underground scene, and we implore all fans to continue their unwavering support. Together, we shall forge an indomitable legacy."
Prepare to join Infernal Throne on their treacherous journey through the sonic abyss. The legions await, ready to succumb to the insatiable onslaught of Greek black/thrash metal mastery.
Find INFERNAL THRONE on Social Media:
https://www.facebook.com/InfernalThroneBand
https://www.youtube.com/channel/UCV2vToe6GgOzG6ziZCTQD9w
https://infernalthrone.bandcamp.com/releases
https://www.instagram.com/infernal_throne_official