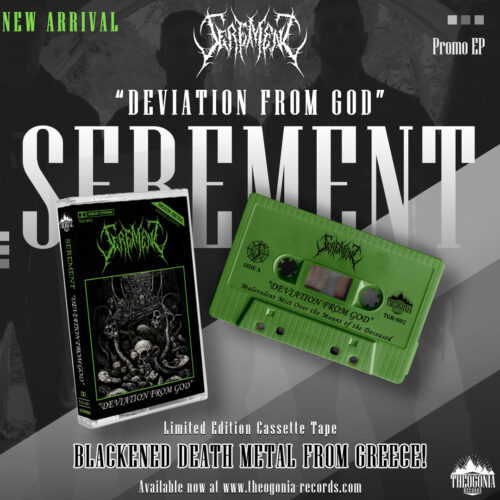 Theogonia Records proudly presents the debut promo EP 'Deviation from God' from the Greek Blackened Death Metal band, Serement. This limited-edition cassette tape is the perfect addition to any metalhead's collection and is guaranteed to send shivers down your spine.
Serement's brutal and haunting sound is a force to be reckoned with, and 'Deviation from God' is the ultimate proof. With two aggressive tracks, you'll experience the raw power and technical prowess of the band. The Greek metal scene is on fire, and Serement is leading the charge.
This limited edition cassette tape is not for the faint of heart. It's for the true metalhead who wants to experience the genre in its rawest form. The promo EP is the perfect introduction to Serement's sound and a glimpse into their dark and brutal world.
Don't miss out on this limited edition release. Secure your copy now before it's too late and become part of the Serement fanbase. Visit https://theogonia-records.com/shop/ to purchase 'Deviation from God' and take the first step in deviating from God.
Join Theogonia Records in supporting the underground metal scene and bring home 'Deviation from God' by Serement. This is the ultimate aural assault on your senses, and you won't regret it.