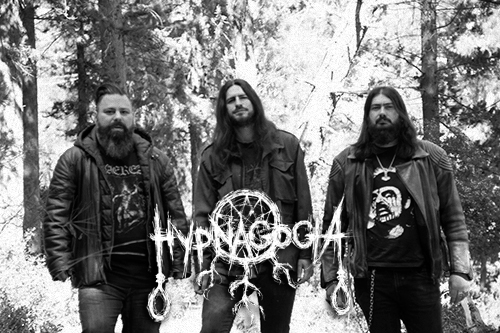 Welcome HYPNAGOGIA: Debut Album "Carving the Subconscious" to be Released on Theogonia Records!
Theogonia Records is proud to welcome HYPNAGOGIA to our roster of artists! Formed in 2021 by Sotiris, Paris, and Pelo, this exciting new band has been hard at work crafting their debut full-length album, "Carving the Subconscious".
This album, featuring seven tracks of melodic/atmospheric black metal, takes the listener on a journey into the world of dreams and the subconscious. With a duration of almost 50 minutes, listeners have plenty of time to immerse themselves in HYPNAGOGIA's captivating soundscapes. The concept behind the album is both thought-provoking and engaging, and we are thrilled to bring it to a wider audience.
"Carving the Subconscious" was initially released on Bandcamp in February 2023 and received rave reviews from fans and critics alike. We are excited to announce that Theogonia Records will also be releasing the album in physical form (CD) in May.

Tracklist:
1. Hypnagogia 
2. Sadness of Insanity 
3. Carving the Subconscious 
4. Impearled Visions 
5. Astral Journey 
6. Mournful Congregation 
7. Hypnopompia 
Please join us in welcoming HYPNAGOGIA to Theogonia Records, and stay tuned for more updates on the upcoming physical release of "Carving the Subconscious"!
HYPNAGOGIA is:
Paris – Guitars, Bass, Drums
Pelo – Vocals
Sotiris – Bass

For more information, please contact:
Theogonia Records
Email: theogonia.records@gmail.com
Website: www.theogonia-records.com
HYPNAGOGIA
Facebook: https://www.facebook.com/Hypnagogiagr/