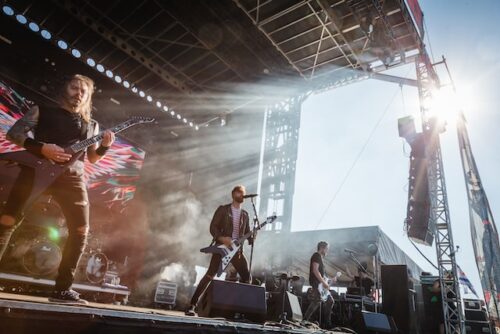 As an aspiring heavy metal artist, getting signed to a record label is likely a major goal. But with so many talented musicians vying for the attention of labels, it can be tough to stand out and get noticed. If you're looking to get signed to a label, here are some tips that can help you improve your chances of success.
First and foremost, it's important to do your research. Before you approach a label, take the time to get to know its aesthetic, focus, and roster of artists. Listen to the music they release, and familiarize yourself with the artists they work with. This will not only help you understand whether you're a good fit for the label, but it will also allow you to demonstrate your knowledge and passion when you make your pitch.
Speaking of pitches, crafting a strong one is key to getting signed. When you reach out to a label, you'll need to be able to clearly articulate why you think you're a good fit for their roster. This should include information about your music, your goals as an artist, and any notable achievements or experience you have. Be sure to highlight your unique selling points, and make it clear what sets you apart from other artists in the heavy metal scene.
Having a professional press kit is another important aspect of getting signed. A press kit is a collection of materials that provides information about you and your music to potential fans, media outlets, and record labels. A good press kit should include things like a bio, photos, music samples, and a list of your achievements and accolades. Make sure everything in your press kit is well-written, well-presented, and up-to-date.
Networking and building relationships within the heavy metal industry can also be valuable ways to get your music in front of record labels. Attend shows, festivals, and other events, and try to make connections with people who work in the industry. These connections can help you get your music in front of the right people and open up new opportunities for your career.
Finally, it's important to be patient and persistent. The process of getting signed to a record label can be a long and difficult one, and you may face rejection along the way. It's important to stay focused on your goals and keep working hard, even when things get tough. Keep honing your craft, and keep reaching out to labels and building relationships. With time and persistence, you may just find the right label that is willing to take a chance on you.
Overall, getting signed to a heavy metal record label is a challenging but achievable goal. By doing your research, crafting a strong pitch, putting together a professional press kit, networking, and building relationships, and being patient and persistent, you can increase your chances of success and take your music career to the next level.