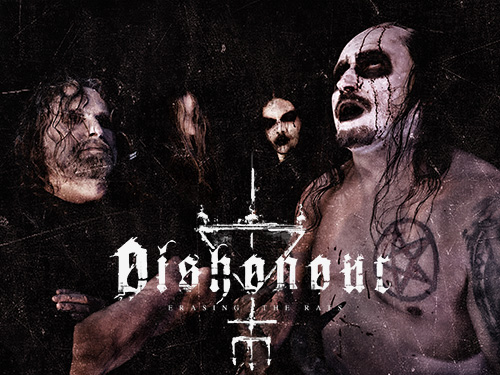 DISHONOUR signs with Theogonia Records for debut EP release: "Erasing The Rats"
Independent metal label Theogonia Records is proud to announce the signing of DISHONOUR, the blackened death metal band hailing from São Romão do Coronado, Portugal. Comprised of Marco "The Beast" Ferreira and Bruno Silva, the band has been making waves with their unique blend of death and black metal.
After recording their debut EP "Erasing the Rats", DISHONOUR recruited top-notch musicians from the underground scene, including Nuno Mourão, Magnus Einar, and Ruben Oliveira, to complete their live lineup. Now, with a full band at their disposal, they're ready to unleash their dark and furious sound on the world.
"Erasing The Rats", the debut EP of DISHONOUR, is scheduled for release in late May/early June 2023 through Theogonia Records. The EP features four tracks that showcase the band's brutal and wise style, extolling their Luciferian vision with every note.
"We've used some formulas to stay above the mundane throughout the years," said Marco "The Beast" Ferreira. "The time has come to vent all of this through our art form. You are invited to be a part of this great diabolical celebration".
The limited CD release of "Erasing The Rats" is sure to be a hit among metal fans who appreciate the band's unique sound and vision. Stay tuned for more updates from DISHONOUR as they continue to make their mark on the heavy music scene.
DISHONOUR is:
Marco "The Beast" Ferreira – Vocals
Bruno Silva – Guitars
Magnus Einar – Bass
Ruben Oliveira – Guitars
Nuno Mourão – Session Guitars
Luis Moreira – Session Drums
For more information, please contact:
Theogonia Records
Email: theogonia.records@gmail.com
Website: www.theogonia-records.com
DISHONOUR
Facebook: https://www.facebook.com/Dishonour.pt